Glass Flooring Systems
Glass flooring has made a major splash in the scene, from the dizzying heights of the Eiffel Tower in Paris to many homes and bungalows in the Caribbean. The innovative structural glass flooring systems brought to you by Circle Redmont are revolutionizing the way people view their spaces.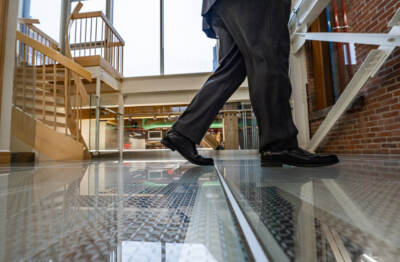 Custom Prefabricated
These custom prefabricated systems provide superior weight-bearing capabilities and can be installed with different types of floors – wood, tile, stone or concrete. Transparent and acid-etched designs can be easily customized to match every client's individual needs. Structural glass floors bring an unforgettable drama to places like Skydeck Willis Tower in Chicago, Skywalk at Grand Canyon, Skybridge in Michigan, and the Ghostbar in Las Vegas. Bungalow suites around tropical islands are boasting breathtaking views with oceanic installations of glass floors as well. At home, homeowners have been known to use them for stairways, wine cellar niches, walkways and even outdoor water features (take THAT swimming pool!).
Contact Circle Redmont
Circle Redmont's high grade structural glass flooring systems come ready for installation, saving time and effort while providing an aesthetically pleasing solution that is durable and long-lasting for both industrial buildings as well as residential homes. To get your own first-class glass flooring experience contact us today! You can fill out our online form today or call us at 800-358-3888.